On February 14, 2019, we celebrated our second anniversary on Valentine's Day at Tokyo Station Hotel. It was a great success, and even today, several days later, the excitement of all the participants continues unabated. We extend our deepest gratitude to our followers, academy members, subscribers, and everyone who supported us, as it is thanks to all of you that we were able to host such a wonderful event. Thank you all very much.

The venue for this occasion was the iconic "Tokyo Station Hotel," which underwent a complete renovation, transforming Tokyo Station itself. It has been turned into a fantastic hotel. The event took place in the splendid ballroom.
At the entrance, there was a "Welcome Board," and eight escorts, including artists and guests, guided attendees to their seats. Once inside the venue, they extended their hands, pulled out chairs, and demonstrated the etiquette learned at our school for gentlemen and ladies. Since they were already charming students, they shone even more, displaying delightful smiles.

The toast was initiated by Ms. Asako Kimura, the President of Princess Room Co., Ltd. and the representative of the Japan Cultural Heritage Successors Association. We received generous sponsorship for many high-quality dresses. Ms. Kimura's announcement was unprecedented – her cultural heritage courses, which she operates, will be combined with our international training courses for global individuals.
The meal has commenced. It is served in the formal French style with the seating arranged accordingly. Our representative, Mari Murata, had the honor of circulating to each table.
Next up is the collaboration between art and opera!
Performances from the operetta "Giuditta" by Lehár, featuring the passionate kiss, Tchaikovsky's composition "Vienna, City of My Dreams" (from Lehár's operetta "The Merry Widow"), and a duet and romance from Lehár's operetta "The Merry Widow." Guest musicians include members of Musica Celeste: Ms. Chie Sato, Mr. Koshiro Kawano, Ms. Rie Sakuyama, and Ms. Chie Hasegawa.
Art unfolds beneath the romantic glow of light and sound. Now, what kind of art is being portrayed? It's a truly dreamlike moment.
Artist: Art Live Artist: AK Fujita Assistant: Tomomi Miyayama
This magnificent artwork is the kind that is often displayed in upscale hotels and venues, typically priced in the tens of thousands of yen. However, tonight, you had the opportunity to acquire it through auction! It's a luxury to be able to adorn the office with a live art piece seen and heard through a live performance.
Now, the excitement continues. This time, there will be a promotional performance of a wedding dance by our students.

The role of the father and the final dance.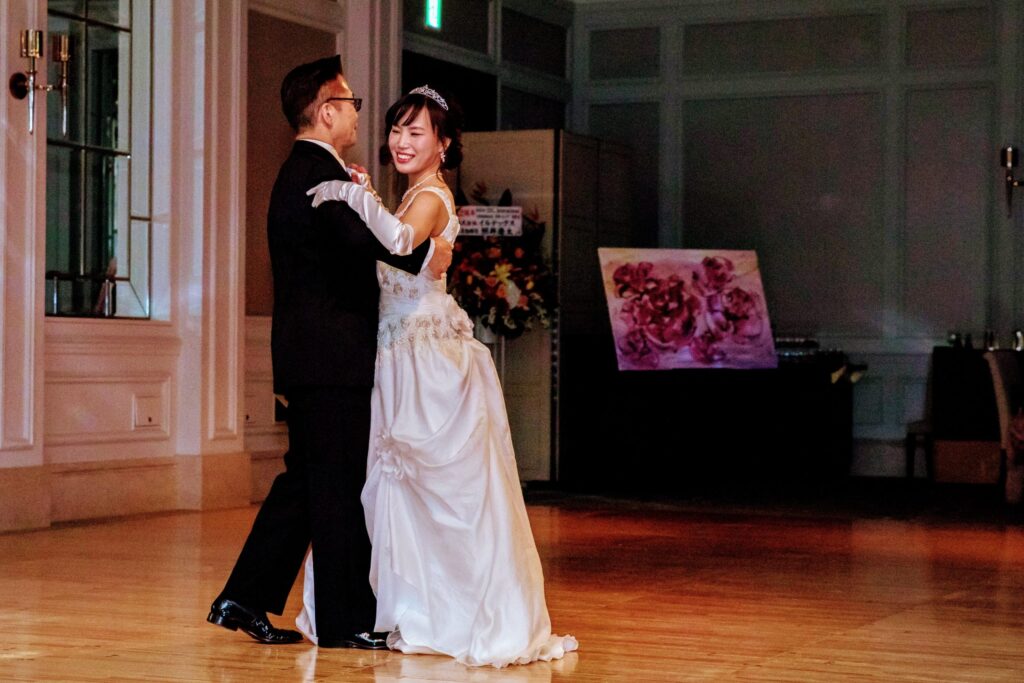 And now, the first-ever demonstration featuring a novice student and the teacher. It was quite a challenging routine for the beginner student, and they did exceptionally well! We look forward to more excitement next year.
The MC, Mr. Greg, is also a singer. He treated us to a wonderful song and even showcased his dance moves!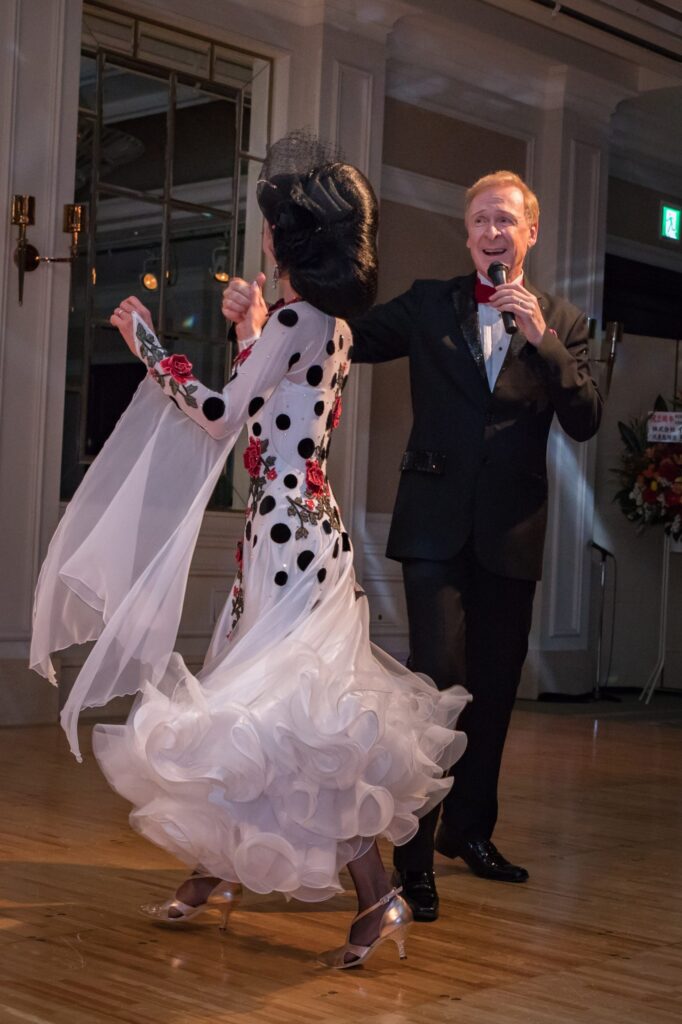 Finally, the professional dance performance featured a medley of Quickstep and Waltz by our representatives, Mari Murata and Shohei Yamamoto, set to contemporary music.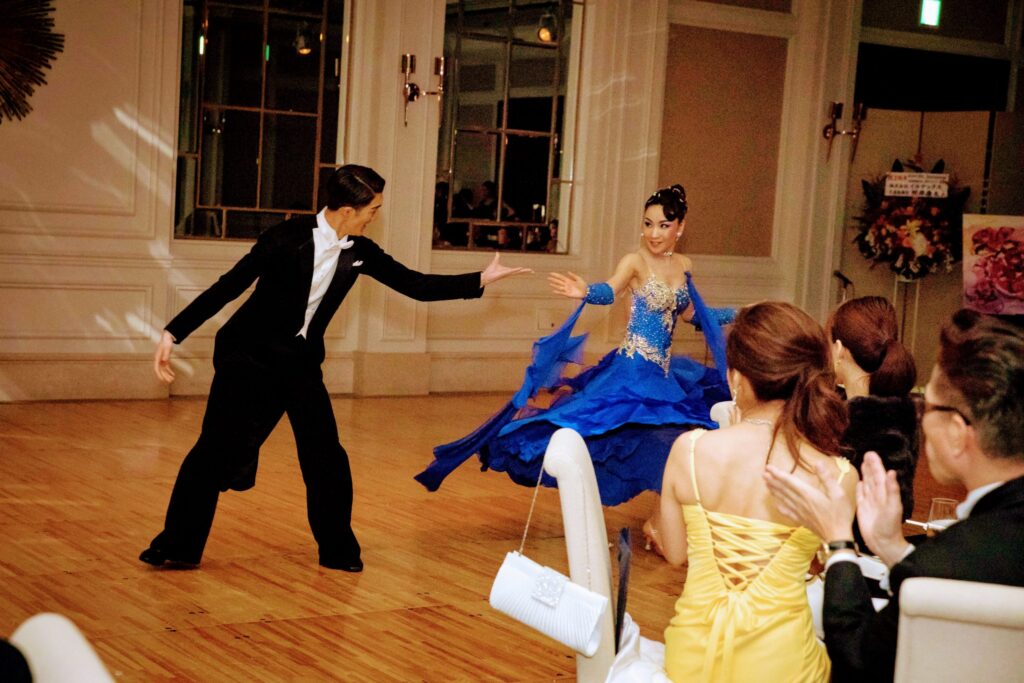 It's time for the award ceremony! Of course, the top honour goes to the student who put in outstanding effort during the demonstration.
Moreover, certificates were awarded to students who consistently put in effort and those who successfully made their debut in the social scene. The escorts, already remarkable, and students showing great potential in gentlemanly qualities were also recognized.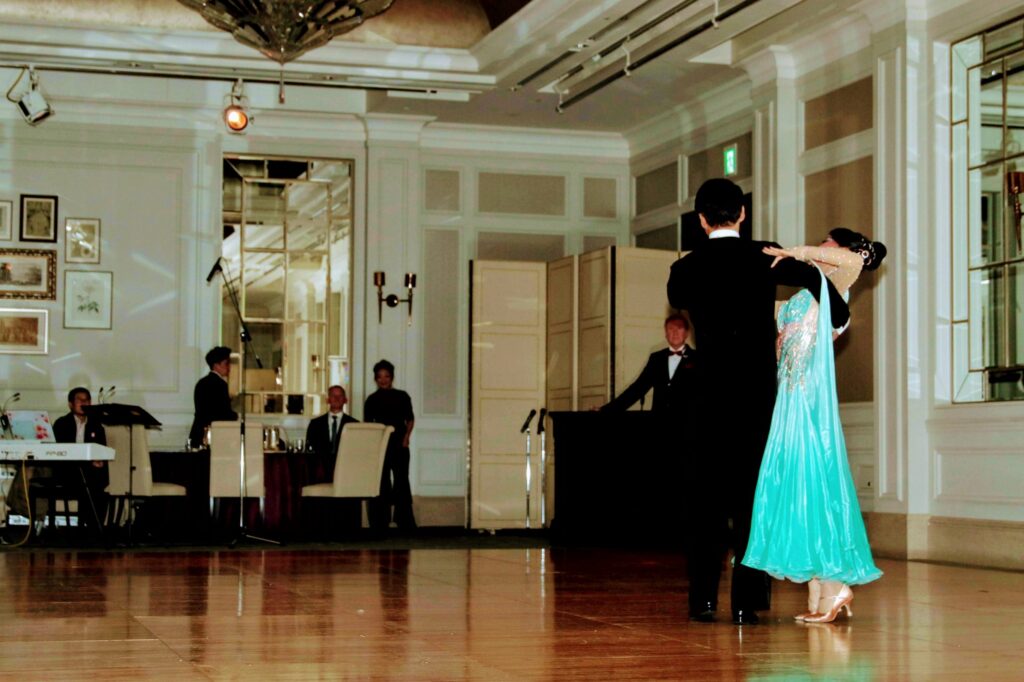 The art auction began with surprisingly affordable prices and, under the entertaining hosting of Greg, a delightful lady successfully acquired a special artwork! Congratulations! This special piece is destined to adorn the office.
Dance time followed by socializing.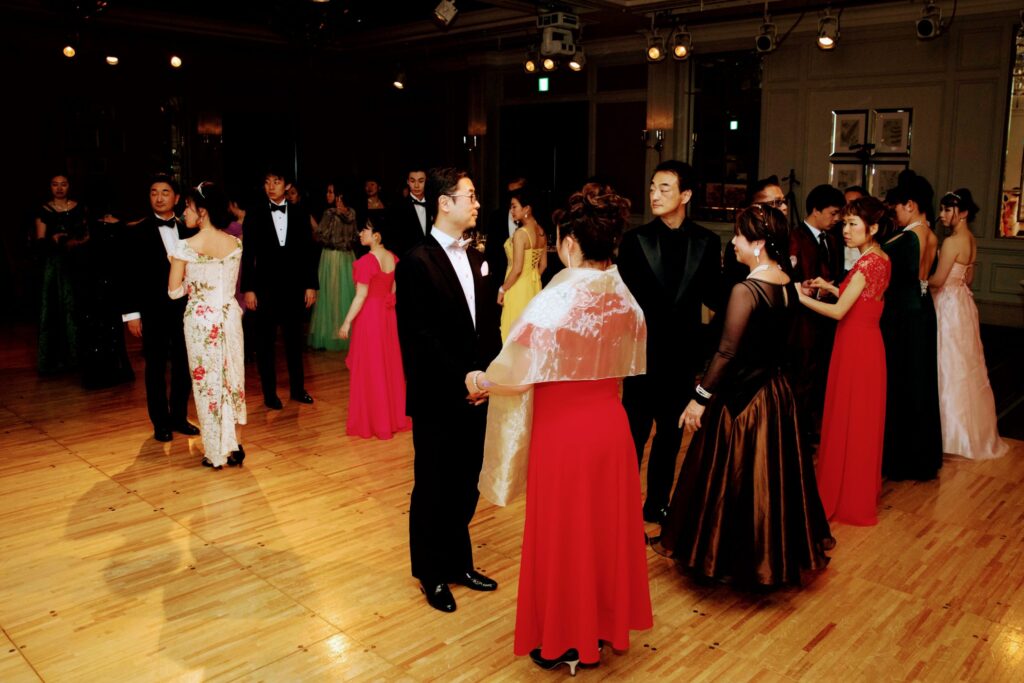 Before that, we conducted a brief dance lesson. While there was a dance lesson before the party, incorporating it during the event added to everyone's enjoyment of the dance.
And finally, the last performance was the Tango Dance with Opera, featuring the composition "Por Una Cabeza" by Gardel).
Dance: Mari Murata & Shohei Yamamoto
Opera: Chie Sato & Koshiro Kawano
Musicians: Rie Sakuyama, Chie Hasegawa
We presented the ultimate performance combining opera and dance!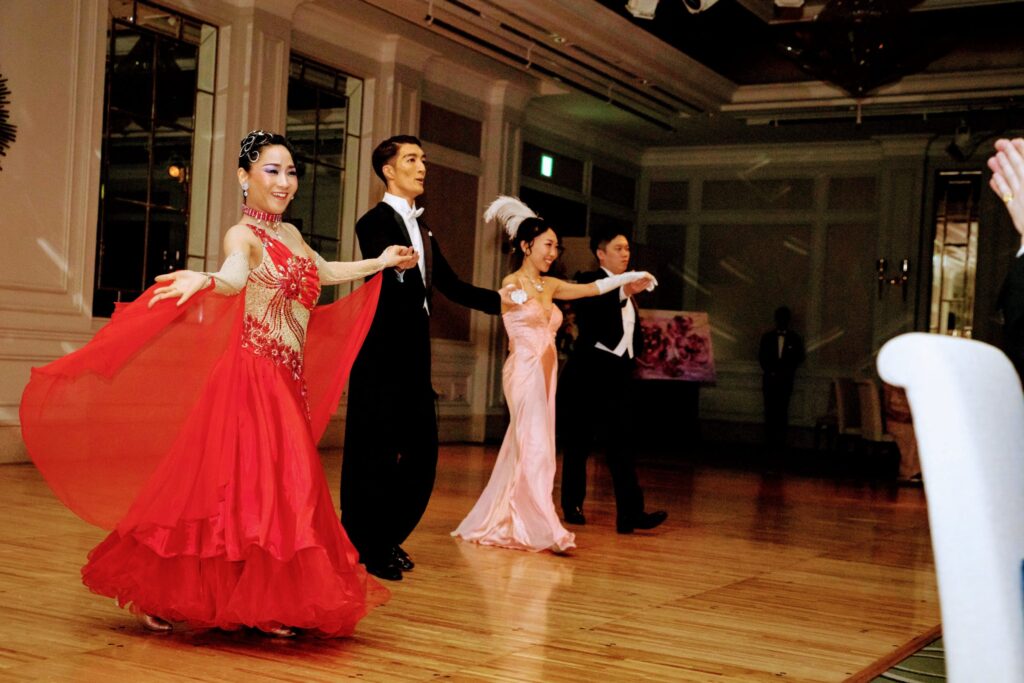 It was a truly wonderful evening, filled with tears, laughter, and enchanting moments. Despite being a weekday, we continued the enjoyment into the late hours with a second gathering. To cap it off, we organized a wine tasting at this charming wine bar, combining it with a post-event celebration.
Let's continue to savor the lingering atmosphere of this delightful social gathering.